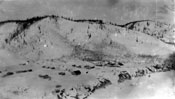 "Birdseye view of Rampart House, spring 1919." Claude took this photo from the heights across the Porcupine River.
Yukon Archives: #7592
Claude experienced the true North while stationed at New Rampart House, a post deep in Gwitchin traditional territory. New Rampart House had its origins in the fur trade. After abandoning Fort Yukon shortly after the Americans purchased Alaska, the Hudson's Bay established the first Rampart House further to the east on the Porcupine River. As it turned out, this post - sometimes referred to as Old Rampart House - was also in American territory. The final Rampart House, or New Rampart House, was built just inside Canadian territory.
For Gwitchin people in the area, and even for the more-distant Inuit, Cadzow's well-stocked post proved to be a real boon. But the good times didn't last. In 1911 smallpox struck in t
Old Crow
.