The discovery of gold on the Stewart River in 1883 turned the region into an early prospecting hot spot. Though Mayo has roots in the legendary hunt for Yukon gold, it was the rich silver-ore strike nearby that really propelled the village into prosperity. During the economic slump of the 1920s and '30s, silver strengthened the Yukon's economy. Located at the confluence of the Stewart and Mayo rivers, Mayo also became in important transportation hub in the central Yukon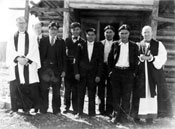 Indian Church board, with Bishop Geddes on the far right, and Reverand Valentine on the far left. ca. 1938
Yukon Archives: #7373
The Northern Tutchone people of the Stewart River region, the Nacho Nyak Dun, once inhabited a large swath of area from Fort Selkirk to Fort McPherson.
(Gold and Galena, page 5)
. Fishing, hunting and trapping were mainstays of their economy. In 1904, the year after the village of Mayo was established, many settled at the mouth of the Mayo River, where they remained until 1915. That year, they relocated downstream near the mission and school established by First Nations Anglican minister Julius Kendi. In 1958 the Nacho Nyak Dun left this site, the Old Village, and moved back to Mayo.