Mayo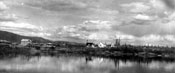 "Along the Waterfront at Mayo Yukon Terr. Further up - showing the English Church [St. Mary's Anglican Church]."
Yukon Archives: #7443
Claude was in charge of the
Mayo
sub-district in 1933 and 1934. For Claude, the wide variety of economic, social and recreational activities in Mayo provided ample subject matter for the insatiable shutterbug. He was incredibly productive, taking pictures and making movies at almost every opportunity. He also had a small business in Mayo for some time, developing and printing film for locals.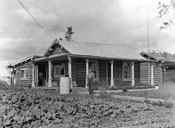 "Some local views in and around Mayo. Yukon Territory 1932. A good specimen of a Yukoner's cabin." Alex Nicol poses outside his log home, and shows off his flourishing garden.
Yukon Archives: #7394
Through writing and photography the Tidds left an extensive record of the lifestyles and personalities of the working people of the Yukon, laborers, housewives, trappers and miners – but they also were connected to the top tier of the wealthy and powerful in the society. This was especially evident during their sojourns in the major centres of commerce. The silver-ore mines of the Mayo-Keno area were the strongest economic engine in the territory in the 1930s, so drew politicians, high-level bureaucrats and businesspeople, many of whom the Tidds had socialized with in Dawson City. So for Mary, their time in Mayo represented a
"return to town"
, with all the social activities and expectations that came with town life.
"I surely must have written a blue letter home, last time, but you know how I am. I said to Claude that I guess it must have been written just before that spasm of entertaining I had, a while back. It worried me a little, but it's all over now, and I feel much better."
(May 6, 1933)"
Just before Mary left Mayo, the Tidds took a farewell hike with their dog, Spud. Claude took the following series of photos:
"Reminiscent of one delightful half-day at Mayo, May 14th 1933. Farewell tea party – for a while."
Yukon Archives: #7363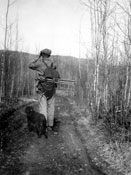 "Claude and Spud take a survey." Mary wrote to her mother that she was glad Claude had Spud to keep him company while she was away, "There isn't a better pal than a dog, to my way of thinking."
Yukon Archives: #7364
Mary did return to Mayo, apparently with renewed spirits and greater confidence to participate in the social life there.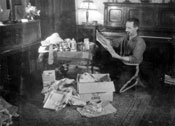 Claude opens his Christmas boxes in Mayo, 1933. Mary spent this Christmas in England with Claude's parents.
Yukon Archives: 91/112 #517, PHO 606
In September of 1936, Mary wrote a letter home to Lancaster in which she spoke of a visit Martha and George Black made to Mayo. The letter revealed a startling degree of intimacy with the territory's most powerful couple. At one point, after Mary had told Martha about the activities of her sisters, Mrs. Black responded:
"Your sisters are wise to specialize."
Then, with a sad expression, she said,
"That's the trouble with me, - I've tried too many things, - and can't do any of them well"
! Mary was stunned by the modesty of the woman who was then serving as the Yukon's first female Member of Parliament. Martha Black was only the second woman to hold a seat in Parliament.
"swellest"
event that took place during the Blacks' visit, a public reception and dance:
"Mr. Black danced with me, and I felt honored, tho he really isn't much of a dancer."
Another famous Yukoner danced with Mary at the event:
Mr. Jeckell was also at the dance, you know, – the Mr. Jeckell from Dawson [Comptroller of the Yukon from 1932-1947]… I had a dance with him, too, - the first since that unfortunate time on the curling rink when he asked me for the first dance, and Mrs. Boyle was so peeved that she was cool ever after…. Well, we had a good time this time. She wasn't there, and I guess she wouldn't care, now that she is his wife.
(Mary to Honey and Bud (Elisabeth and Mark), Sept. 2, 1936)
While Mary was dancing with the Yukon who's who, multi-talented Claude would likely have been part of the band. One long-time Yukoner, Dr. Allan Duncan, lived in Mayo the same time as the Tidds, and he remembered Claude's musical finesse:
Music in Mayo was excellent, largely because of the skill of Sergeant Claude Tidd. RCMP Tidd's favourite instrument was the slide trombone, but he played anything that could be blown, stroked or beaten. He could hear a new tune on the radio and, presto, it was on the program for the next dance.
(Medicine Madams and Mounties: Stories of a Yukon Doctor, Raincoast Books, 1989)
By the time of the Blacks' visit, Claude had retired from the Force, and presumably he finished up his service in Mayo. It also appears that the Tidds left the Yukon immediately after his retirement for a brief stint in
Vancouver
. The Tidds then returned to Mayo for a few years. We're not certain why the Tidds left Mayo the second time around, but one of Mary's letters home indicates that they were planning to leave for Forty Mile in May of 1938.
(91/112 f. 5 MSS 365, typed excerpt transcribed from a letter written March 20th to 23rd, 1937)