Wedding dogs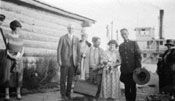 Claude and Mary on their wedding day, perhaps with the Burkes. The S.S. Yukon is in the background. The steamer and her crew played a large role in the Tidds' wedding day.
Yukon Archives: 91/112 #413, PHO 606
A hard winter had taken its toll on Mary's health and as her wedding day drew closer, she found herself bedridden with the flu. She fretted:
"…my sweetheart was due on Aug. 2, and I simply had to get well, that's all there was to it!"
She was well enough to greet the
S.S. Yukon
when it arrived from Dawson City with her fiancé aboard.
"Claude was the only person I saw, for he was right in front, and his uniform naturally made him conspicuous. I thought him quite the handsomest man in the world,"
she wrote to her family nine days later.
Dr. Burke later recalled that Bishop Rowe, who wed the Tidds, had marveled at the celebration,
"never, anywhere, did he see a prettier wedding or a more impressive ceremony than ours in the little church within the Arctic Circle!"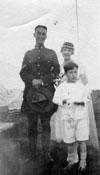 Claude and Mary with Grafton Burke, who attended their ceremony.
Yukon Archives: 91/112 #507, PHO 606
Afterwards there was an elaborate party aboard the
S.S. Yukon
. Claude and Mary sat at the head of the table, with Captain McCann at her right. Claude wore his uniform, of course, and Mary wore, over her wedding dress, the fox neck piece he'd brought her. McCann said that all through the evening he kept thinking,
"Oh if only her mother were here!"
A half-dozen dogs also took part in the festivities. They
"were all decorated with bells and red ribbons, for the occasion and they certainly looked comical."
Before the Tidds could leave for their new home in Dawson, Fort Yukon threw one more professional challenge at Mary. The day after the wedding, a sawmill worker got his arm caught in a piece of machinery and his hand was horribly mangled. Mary credited the presence of her stalwart husband for helping her through the four-hour operation. She told her family that her
"wedding ring (platinum) turned yellow on dipping it in iodine for the purposes of asepsis…"
. It now looked like a much older ring and
"one would think I had been married for years."