Farewell to the Yukon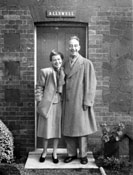 "There is nothing in the world so contagious as laughter and good humour!" Claude and Mary at their cottage, "Allswell", in England.
Yukon Archives: 91/112 #689
After Claude's retirement from the NCO company, the couple left Old Crow and returned to his hometown in Norfolk. They found a house near Claude's father's home. Ironically – for a couple who had often endured seasonal scarcities in their wilderness homes, owing to frozen rivers, storms and distance from supplies – the Tidds now found themselves challenged by post-war deprivation in England. On November 23, 1947, after thanking her family in Lancaster for a Christmas food package, she wrote:
"Yes – the season of the year is bad – and the unbelievable shortages and phenomenal prices (when they can be secured at all) – make me wonder sometimes – if we can ever 'make the grade.' "
Milk, butter and sugar were precious.
"[A]nd so it goes all down the list," Claude stressed to Mrs. Ryder. (91/112 f. 8 MSS 365 November 23, 1947)
It was a sorry change from the Christmas cornucopia suggested by Mary's letter home from England at the end of 1933!
The final sojourn in England proved taxing for Mary. Claude was seriously ill and hadn't long to live, though he presented a brave face. To his mother in law he wrote:
" am glad to say that I still keep on improving in health, tho I do not attempt anything involving anything strenuous. I can ride a bike a mile or two – by doctors orders. I very much enjoy this as you know as I still cannot walk very far."
(91/112 f. 8 MSS 365 September 22, 1947)
Claude does more than he should, I fear, - bless him. – he tries so hard. – but it worries me to see him force himself – and yes – there are so many 'musts' for just us two. Dad and Auntie are so dear and we love their sympathetic interest – and the convenience of being so near – but of course, it is out of the question for them to help us here. In fact – I wish I could do more for them…
(91/112 f. 8 MSS 365 November 23, 1947)
She hoped to be able to look after them better after she and Claude were more settled.
After Claude passed away in 1949, Mary returned to her family home in Lancaster, Pennsylvania where she died a few years later.