Claude Tidd, "Camera Fiend"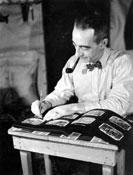 Claude kept meticulous albums, which are works of art in themselves.

Yukon Archives: #8123

Photography was much more than a hobby for Claude Tidd. It was a calling. As some of the diary entries from his winters in Old Crow reveal, he became depressed and frustrated when he couldnt pursue his art. Tidd brought impressive professionalism to his avocation as a photographer. Though not formally trained as a visual artist or photo-journalist, he consciously strove to perfect both his medium and the message. He was fiercely self-disciplined. When he wrote about this labour of love, he assumed an informal, even jocular tone, referring to himself as a camera fiend, but that was somewhat disingenuous. He was very serious about his work and couldnt be satisfied with less than the best.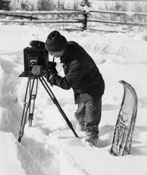 The intrepid photographer sets his camera up in the snow. Note the pipe, which seems to be present in more photos of Claude than not!

Yukon Archives: #8526

Weather posed many challenges. Merely to set up a tripod in three feet of snow and get it perfectly level is in itself quite a feat, he wrote in a 3,000-word article, Winter Photography in the Yukon . Then to fiddle around with the focusing screw, adjust the diaphragm, set the timing device, remove focusing screen and insert a plate-holder, fix a filter and lens hood; all this even at a modest twenty-five below zero is no picnic, especially as it must be done bare-handed.

(77/19 f. 2, MSS 061 "Winter Photography in the Yukon")

Of course, back in the pre-digital days, the cumbersome technology on which a photographer relied could create problems for anyone who lived and worked in the wilderness. Far from any hardware store, let alone a camera store, Claude was forced into the role of innovator and inventor, whether for a power source and lens for his enlarger, or for dust filters for developing. He met such challenges handily, then reverted to his modest self: "And although I havent succeeded in turning out any Salon-quality prints yet, some of my results have given us and our friends much pleasure, while the odd one has even pleased an editor occasionally."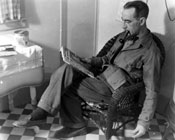 Claude creating a self-portrait in his Mayo kitchen. His hand is near the floor, pushing a button to take the photo.

Yukon Archives: #91/112 #454, PHO 606

There is an element of salvage anthropology to Tidds work. It is a good point for debate: just how aware was Tidd that he was saving views of a passing age for posterity? His sojourn in the North lasted from early in the First World War -- when planes were a novelty and radio technology fairly experimental -- through the Second World War. By then air mail had become commonplace and every modest home could afford a radio. Tidd was surely aware that an old way of life, for both aboriginal people and non-Natives, was being changed forever in the North. He must have realized that all the progress had a flipside; as the Yukon became more habitable, thanks to technology, many more people would flood in, bringing new priorities and new temptations. Consider Tidds images of children enjoying oranges, back before manufactured cookies, candies and sugared cereal became commonplace in northern communities.