Policing "the real frontier"
"I have at various times been stationed at different points all over this vast Yukon territory and have traveled it from the Arctic coast to the northern border of British Columbia – and all behind a dog team – and also from the most easterly to most westerly extremities."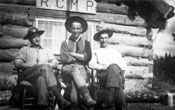 Claude (centre) poses with Robert McCleary (left) and F.W. Miller (right) at RCMP post in Teslin.
Yukon Archives: #7792
Imagine the huge learning curve the boy from Norfolk faced in the cold northern wild, where mistakes could quickly prove fatal! Claude would have had to pay strict attention to the lessons provided by his fellow officers and First Nation guides – how to drive a dog team, repair sled runners, build and maintain log cabins, clean wild game, catch fish, prevent frost bite, fell trees…. Claude was a good student and he quickly found himself at isolated postings,
Claude clearly enjoyed northern policing, and immediately set out to document every bit of it with his camera, from the most mundane chore to the most adventurous of all mounted police duties: the dog team patrol.
"I loved the life tho in spite of the isolation – dogs, books, photography in addition to daily chores around my cabin, were the chief means of putting in time. I had to do entirely for myself – cooking, house-cleaning, my own washing etc., cut my own wood out in the bush, haul it with dogs, saw it and split it – and the thousand and one other little things that go to make up the life of a Policeman out on the real frontier – the edge of things as it were."