The long journey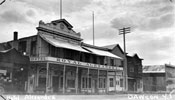 The Royal Alexandra Hotel on front Street in Dawson City. In one of her letters Mary makes reference to the hotel.
Yukon Archives: #7765
As Mary boarded the ship that would take her north, she had no idea of the romance and adventures she was about to embark on. Traveling up the coast to Skagway, Alaska, Mary was awed by the
"unparalleled beauty"
of the mountains and glaciers and islands they passed en route. Skagway was the southern terminus for the narrow-gauge White Pass Railway, which would take her into Canada and Whitehorse. There she would board the S.S. Casca for the long river trip to Fort Yukon.
"There I met a wonderful specimen of manhood – one of the Royal Northwest Police who wore a gorgeous uniform with a coat of scarlet. We went to a ball on Pioneer Day, a famous celebration, and this particular corporal danced with me so often that ever since they tell me what a grave oversight it was to be inoculated against everything almost and then succumb to 'scarlet fever,' before I ever reached Fort Yukon."
(91/112 MSS 363, Mary Tidd quoted in the Lancaster New Era. n.d.)
"Cpt. McCaun
[sic. This was likely Captain McCann of the S.S. Casca who, while commanding the S.S. Yukon, attended Mary's wedding the following year]
took us all around Dawson in his car that day (almost the only auto in the town) and we had a ride I'll never forget – went to a mammoth Gold dredge – saw the huge hydraulics with which they go over all the rocks for gold…."
Mary and some of her new friends also climbed the nearby hill known as The Dome and were treated to a panoramic view of Dawson City
"nestled at the waters edge – with steam ships in the harbor. – The Canadian flag waved over all. We built a fire on the way down and had tea. All is very English here."
(91-112 f. 1 MSS 365 Transcribed excerpts from Mary's correspondence from Fort Yukon. August 22, 1924)