"Absolutely Shut off"
After a few days in Dawson, and no doubt buoyed by the excitement of a budding romance, Mary continued on her journey to
Fort Yukon
. The steamship deposited Mary at her new posting on August 18. If she missed her Mountie, she didn't let on in that winter's batch of letters home. She was probably overwhelmed by first impressions and new tasks and she told her family about her new boss rather than her new boyfriend.
"Dr. Burke is not yet forty, but looks quite old,"
she wrote to the Lancaster paper.
"Frontier life is very hard and the responsibility very great. He has to do everything – doctor, lawyer, minister, Indian chief!"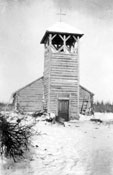 St. Stephen's church. Mary sent this photo to her family with this description on the back: "The little Church about which I have written so often. Will send you a picture of the hospital, as soon as I get a good one." Mary would marry Claude at this church less than a year later.
Yukon Archives: 91/112 #590, PHO 606
Mary described life at her new posting: The hospital was
"Absolutely shut off through long winter months, it is a veritable struggle for existence. Imagine running a large hospital and having to pack from the river every single drop of water. Pipes would freeze, you know. No plumbing system is possible. Water is so scarce that we have to save the patients' bath water for washing out buckets etc., and that is only one of the hundreds of problems that come up."
For the community of Fort Yukon it was worth the struggle.
"In the old days, when Dr. Burke first came here and the hospital was just begun, the death rate exceeded the birth rate. Now – it is the reverse – lives are being saved."
The local Native people were finding a healthier way to live, according to Mary.
How Mary's family must have worried when they read her vivid letters from the winter of 1924-1925! It was the roughest on record, beginning with a mission fire and ending with a flood. And the cold was severe. At one point she assisted with the amputation of the mailman's feet: Mr. Bredermian had frozen them on the trail. Mary learned to carry a whip to protect herself from the free-roaming and near-feral sled dogs. She learned how to
"rise a gun,"
operate a dog team, bake bread and sew moccasins, among the many other necessary skills.
At the same time, not all was doom and gloom and frigid temperatures. Mary's letters home also told of moon-lit dog team rides and late-night birthday parties by the fire and under the stars. She rode in the sled of Jack Frost, a long-time northerner known from Fort Yukon to New Rampart House and beyond. In Fort Yukon Mary demonstrated a great fondness for Christmas festivities. She would continue this throughout her decades in the North, contributing Christmas cheer to any community she became part of. In a letter from Fort Yukon to her father describing preparations for Christmas she conveyed her excitement for the season and the joy she took in making the holiday merry for the many children at the hospital.