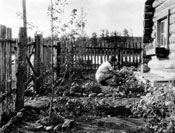 "In the good ol' summer-time (the mosquitoes don't show up very well, tho')." Mary tends her garden in 1930.
Yukon Archives: #7959
Almost immediately upon the Tidds' arrival at Ross River, Mary set out to transform the RCMP cabin, previously inhabited by a young bachelor Mountie, into a suitable home. The pin-ups of Claude's
"dashing young predecessor"
were replaced with stenciled birds, and chintz curtains adorned the windows. Mary also planted a garden, which was a source of immense pride and pleasure to her. Meanwhile, Claude wrote reassuring letters to Mary's family, ensuring them that she was happy, gaining weight, sleeping better, and not at all suffering from the isolation.
[Gold and Galena, page 302]
Letters from Mary Tidd to her family sometimes seemed to suggest that the Martin children visited her home so often that she felt overwhelmed. But she could also rely on the Martin family to help her out when Claude was away on police patrols. The children helped her string popcorn at Christmas, and one summer while Mary was away, she was delighted to return to find her garden flourishing under the care of young Mary Martin.