Forty Mile/Twelve Mile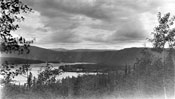 "In and around Forty Mile, Spring 1932." Claude took this panorama shot from across the Forty Mile River.
Yukon Archives: #7256
After Claude retired from the RCMP, he sometimes struggled to make a living. The correspondence from this period is sporadic, and it's difficult to trace what the Tidds were doing and where they were living. We do know that the Tidds returned to Forty Mile for a few years after leaving Mayo. They had lived briefly in Forty Mile when Claude was stationed there after recovering from the
"toxic goiter"
operation. Mary's sister Honey was with them at the time and helped provide companionship for Mary as she settled into the new community. The Tidds were almost as enamoured with Forty Mile as they had been with Ross River, which is likely why they returned after Claude left the Force.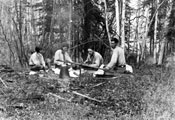 Mary, Honey, an unidentified man, and Arthur Anderson enjoy a picnic near Forty Mile, May 1932.
Yukon Archives: #8012
The coming of the Northwest Mounted Police in 1895 inspired some miners to hightail it out of Forty Mile for more isolated regions, less subject to the Queen's law. However the community thrived for two more years until gold was discovered on Rabbit Creek, later called Bonanza Creek, in the Klondike. The miners swarmed upriver to become part of the new gold rush near Dawson City. After the Klondike stampede wore down, many miners returned to Forty Mile, though the community never rebounded into any sort of prominence. The Mounties lingered in Forty Mile until 1938, when the Tidds' friend and colleague
Constable Joe Kessler
closed the post.
Claude made good use of his two sojourns in the community, both as a photographer and as a writer. As he had in Ross River, he became close to his few neighbours and preserved their accomplishments and personalities in his own work.